Bee Secure Solar Emergency LED Flashlight
Sunday, 1 November 2020 | Spectrum ID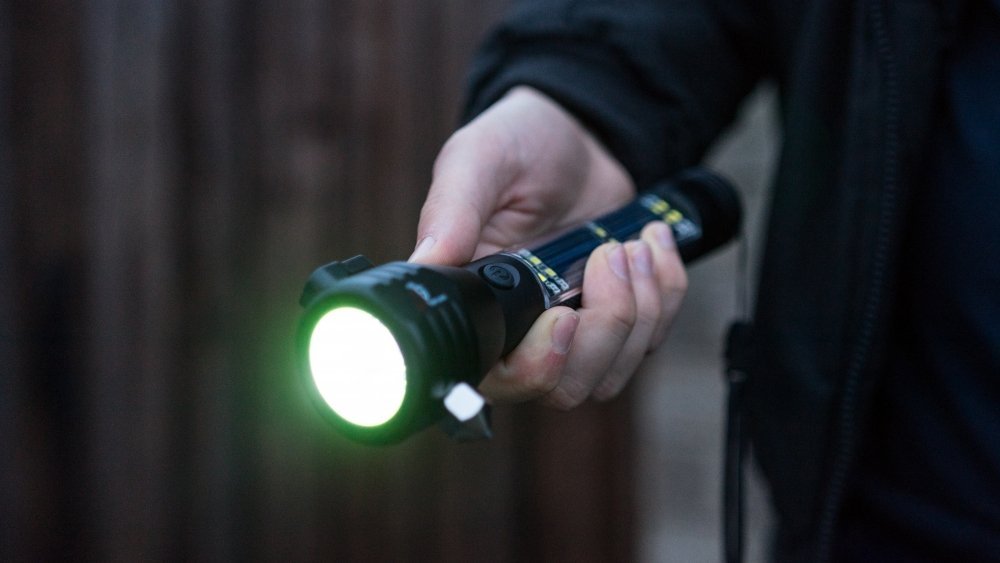 Bee Secure LED Emergency Flashlight made from Black Alloy.
This is a solar powered rechargeable LED flashlight with a power bank alarm with an emergency hammer.
A single press of the main on/off button activates the main beam of the torch. A second press of the main on/off button makes the main beam flash. Keeping the main on/off button pressed activates the main beam and the internal lights of the torch which flash white/red and blue.
The torch comes equipped with a compass located at the rear. There is a siren feature on the torch as well as a USB charging port. There is also an alloy built in safety hammer with an emergency cutting blade located on either side of around the main beam of the Bee Secure LED Flashlight.
Our Bee Secure LED Flashlight can be an essential part of any emergency car kit. With the emergency hammer you can break your way out of your broken or otherwise car windscreens for a quick escape from a damaged or dangerous vehicle. The in-built seat-belt cutter with safety guard enables you to safely and easily cut yourself out of a broken or restricting seat-belt in cases of accident or emergency. The high powered and solar rechargeable flashlight with built in power banks ensures you have enough charge to light your way in an emergency situation. The flashlight even has an emergency red and blue light setting you can use to let other vehicles or people know that an accident or emergency situation is occurring and to be vigilant and/or offer help.
Keep this incredible multi-purpose flashlight in your vehicle to ensure you are prepared in event of an accident or and emergency.
To find out more about the product or to order, click here.