All About ID Cards
Why have an ID card?

On the face of it your humble photo ID card is a simple little fellow, just a square of plastic with maybe a photo of the holder printed on one or more sides. Sometimes that is all that we require from our ID card. Just a token identity device.
But depending on what you require our little card can be a great deal more, in some ways it can enhance your life by making certain aspects of today's world more simple to access and secure.
We have moved on a long way from having a piece of laminated paper somewhere in our jacket pocket. Today's cards may be multifunctional; providing access control with a visual presence they may even have a facility to hold personal information as in the way of a chip embedded within the card.
Also a professionally produced ID card with the correct card accessories can enhance the image of your staff and organisation, by adding that extra dimension of professionalism.
Types of ID card
Magnetic Stripe Cards
Over many years we have become accustomed to using magnetic stripe cards for access control and other services. Now we have circuitry built into the cards which allow access via an electronics reader as with a proximity card. This type of card is now superseding in some areas such technologies as bar codes and magnetic stripe; although they are still widely used.
ID Card Multifunction Cards
On the printed surfaces of our card we have the ability to have many technologies all on one card. Sometimes we may require more than one type of technology to be able to gain access to or gain use of buildings or computer hardware such as computer terminals or even more traditional machines such as a photocopier.
Photography ID Cards
We all expect a photograph on our ID card and also text in a variety of fonts informing us of the basic details of the card issuer or company and the name of the holder of the card. This information could be printed onto a piece of paper, but it does not have the professional look of a quality produced plastic ID card.
Ghost Imaging Cards
Cards which have a hard working life, by being regularly handled may have additional protection to the print services by the addition of an over laminate. The over laminate may be clear or it may have intricate patterns embedded into the laminate to assist in providing that essential extra level of security and wearing ability of the card. Prior to the addition of a laminate the original surface of the card may have a ghost image that is a copy of the holder's picture which has been altered to appear very faintly in the background of the card.
Holographic Cards
It may have embedded Holograms, Bar code, PDF symbologies, Colour shifting inks, UV printing Guilloche patterns, Micro & Nano text Holoimages. New features that are becoming available and the ones that are currently available are amazing. When you think that they all exist to add value to that little piece of plastic in our pocket.
Bio-Degradable ID Cards
For the individuals and companies who wish to enhance their green credentials, there is now available a range of biodegradable ID cards. Where is the limit of the technologies that may be used with an ID card, who knows? Certainly not me.
Uses of ID cards
Company Access ID Cards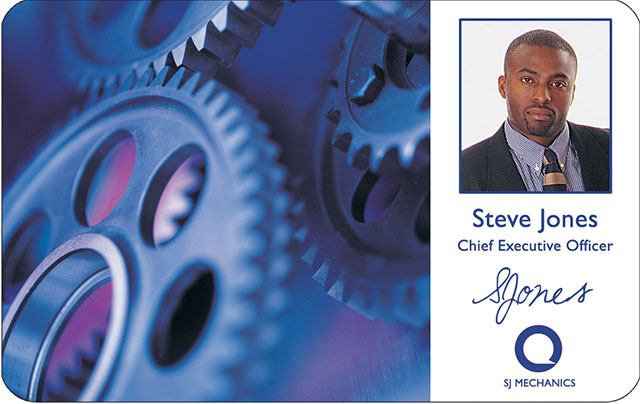 Cards to control access, either by possession of a photo ID card or by a personalised electronic card are available. Many technologies are available; from the well known magnetic stripe card through to the chip cards and biometric cards that are becoming part of our everyday life.
Read about Access & Security Control
Membership Clubs and Association ID Cards
Should you require membership cards for a club or association Spectrum will personalise your card with the required information, be it a name or number or a combination of many different features. Clients who have such cards are security companies, security associations, car clubs, facilities companies, charities, construction companies, general business, office id and nursing homes.
Some motor sport clubs have their cards personalised with images of their chosen or individual vehicles. They may have supporting text on the card with a named individual and their personal vehicle details. Or combinations of other information.
Security Firm Employee ID Cards
Security companies require something a little more precise; as they should comply with the British Standard 7499 for security operations.
They require cards with a number of set features:
Company Name
Company address
Company telephone number
Employee name
Employee Number
Expiry date (not more than three years from issue date)
Employee signature
Employee photograph
Security companies are required to hold a register of issue and withdrawal of all cards and a record of lost cards.