A Journey in Time to Ecommerce
In the beginning...
It all started in 2000 when I became membership secretary for the International Professional Security Association (IPSA). I had joined the association in 1997 looking for a career change. I never - unfortunately, or otherwise – managed to gain employment directly within the training sector of the security industry which, at the time, I felt was an appropriate progression from my martial arts training.
As an association we were quite old fashioned in our membership renewals. We were still using a paper card with a stamp, very much like a postage stamp with the logo and that particular year's date. (For those with long memories: aka Green Shield Stamps!)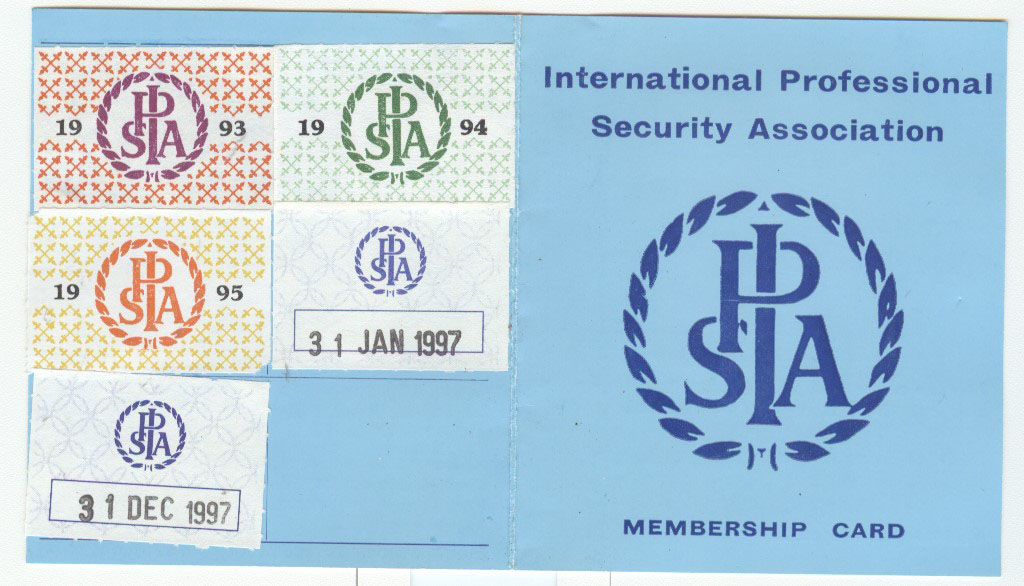 I have held many positions within IPSA over the years. I have been at the dizzy heights of Deputy Chairman to dogsbody. Mainly dogsbody. I have sat at numerous exhibition stands for the association - IFSEC & Counter Terror, in particular, come to mind. I have represented the association many times, attending meetings in the Houses of Parliament and other quite prestigious places. It has certainly been an interesting experience and has enabled me to meet people from many parts of the world.
I undertook the role of membership secretary in 2000. The previous year, the association had been given money from a member company for work produced. The management at the time had a plastic membership card commissioned, very much like your current bank card, featuring the association logo and the membership details in raised text. Then in the 2000 membership period, we returned to the paper card and yearly postage-style stamp.
The first foray into card printing
It will be of no surprise that the members complained that they did not wish to return to the 1940s style paper card. So being all keen at that point, I stated that I would provide the association with a plastic membership card - although I had no idea how! I was not particularly computer literate and while ID card printers were pictured on the rear page of the 'Security Professional' magazine, I had no real sense of what the printers were for or how one would use them.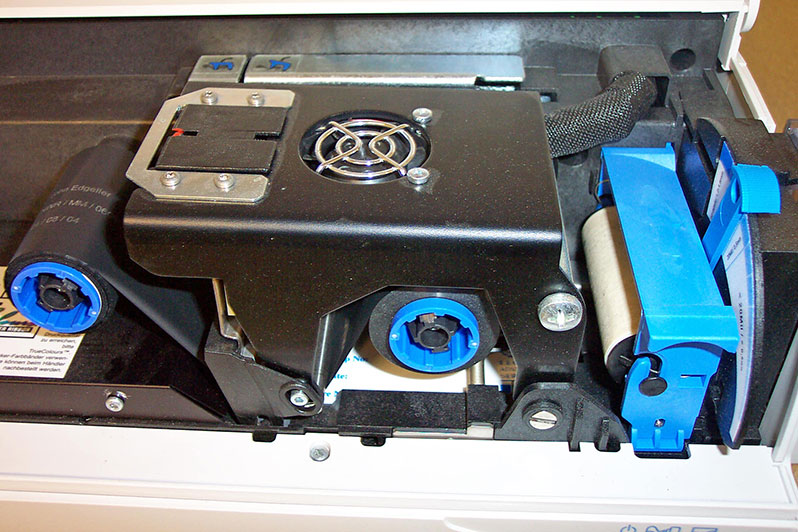 Despite this, I managed to source one and a gentleman named Jim travelled from Birmingham to show me the machine which I subsequently purchased: an Eltron Printer. I then proceeded to make lots of mistakes and ruin loads of base cards and printer ribbons. But eventually, I learned the software and how to operate the machine and design the cards. It all seems quite simple now, but back then - for me, at least - it was a big learning curve. Having to self teach with nobody to guide me, it took a while to get things right.
At the time, I was also fully employed in the transport section of the utility company Welsh Water, working twelve-hour shifts and also tidal hours driving HGVs - one in the morning for twelve hours, two in the morning etc. As you will be aware, tidal hours are constantly changing.
So my transition into producing association memberships cards was very much a weekend affair plus any other time I had available (at least, when not in the pub which, very conveniently, was and still is at the end on my street, although unfortunately now closed!)
Despite my many problems, the association finally had their membership cards in a plastic format rather than a bit of card with a paper stamp. Progress! I still produce the association membership cards but unfortunately not on the same printer; possibly on printer number five and counting since then.
Welsh Water as a company was changing; we went through privatisation and amalgamated with the electricity company SWALEC to become Hyder. This brought many changes, alas not all for the better. We also inherited a number of SWALEC management personnel who had no regard for the years that many of the staff had worked in roles very few people would wish to work in, with it being the dirty water section of the company (sewage). After a couple of years, redundancies were on offer. With twenty years service under my belt, I seized the opportunity while the going was good. Ironically Hyder has since returned to being Welsh Water, a not-for-profit company.
A new business is born
So having relatively mastered how to print membership cards, I turned my attention to printing photo ID. Again another learning curve but this time not so challenging as I now knew how to use the software and the printer; I just had to master utilising images etc. So I decided in my wisdom to make a little business from my new expertise!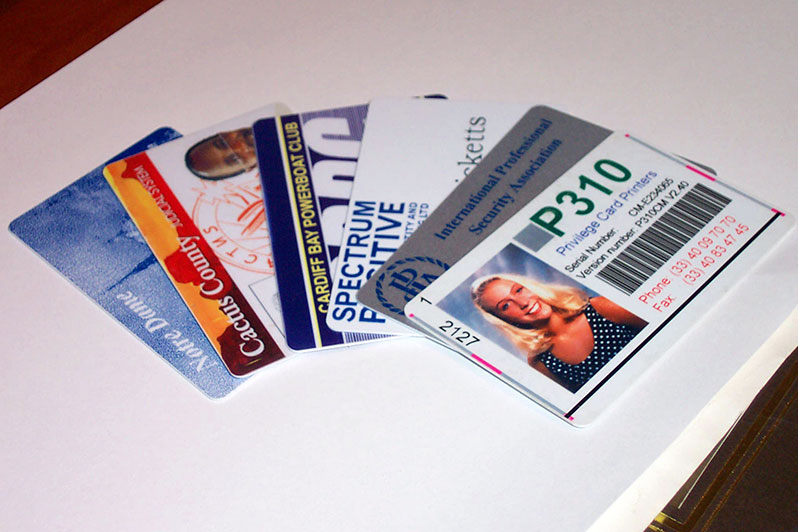 I continued driving HGVs in varying roles and for different companies, some as full employment, others on an agency basis, whilst still operating my little bureau service. I had a website built by the web design company Blueygreen which served my well, and the website is still live today www.spectrumpositive.co.uk. I also joined the local business club: Torfaen Economy and Enterprise Business club. Originally set up as Torfaen Business Voice (TBV) which it still operates under, I held the post of Club Chairman for fifteen years until retirement. I still play a part as a committee member of the club.
I grew the business; not massively, but I acquired roughly forty clients, some of whom I still have today. Clients come and go of course, but the 2008 financial crash slowed things right down with very little new work for the bureau coming in. Fortunately, as this was essentially still a hobby business, it really did not matter so much at that point, and the world rolled on quietly.
In 2007, I gained full-time employment with the brewers Samuel Smith where I remained for five years, working out of the Argos depot in Ebbw Vale where they rented space to park our delivery vehicles. It was a full-time role but my work was normally spread over a three day week, with my colleague working the five shift pattern. This was convenient as it allowed me more time to promote my Staff ID Card Bureau.
Then along came GDPR and what a lot of nonsense that turned out to be! Like many businesses at the time, it cost us a number of long time clients, as there was so much scaremongering and misinformation. Customers were saying that we can no longer provide you with information on our staff as we will be chained to the wall and whipped with stinging nettles, whilst all the time all that is required is a business-to-business agreement stating that the information you supply us as a bureau is correct. For our part, we must protect your information and not let it stray from our databases. Fortunately or otherwise, no whipping with nettles.
Moving to ecommerce
As a number of clients had mentioned that they were looking to purchase their own card printers, I thought: how can I diversify?
Over the years I have sourced my print consumables from the distributors Securit. This company was sold and became part of Digital / Trade ID. Fortunately, my account manager from Securit moved to the Trade ID side of the new distributor so I had continuity. I came to the decision that if I was not able to sell Staff ID cards I would sell ID card printers and consumables to current and new clients. I then made a management decision over a beer that e-commerce was the name of the game - and Spectrum ID was born.

After going around the houses a bit, I tried a self-build website. "Mistake". I had a friend of a friend build me a site. "Bigger Mistake". I then did what I should have done in the first place and approached the designer of my original website. What did I get in the way of a website: a site that has to be described as par excellence in web sites. Thus I now have two sites linked: www.spectrumid.co.uk and www.spectrumpositive.co.uk.
So here we are. An owner of an ecommerce site and Staff ID Card Bureau service offering a range of products from the fields of Security and Identity. As an independent supplier, I source products from a growing number of distributors, but they normally all fall into a handful of categories:
I am fortunate to also have a number of suppliers who are also colleagues. I specifically mention A2Z Computing for all things IT related and Card Personalisation Solutions specialist access control cards - their knowledge has been invaluable over the years. And of course, my web designer Blueygreen whose magic makes all things website-related possible and knowledge of the subject indeterminable.
So where do we go from here? Well the new kid on the block is the Internet of Things. It is creeping into our lives without us really noticing. And the use of smart phones. How did we manage without a phone, smart or otherwise? Well there's no going back now, with phones playing a part in everything we do, even as far as opening your front door!
My new foray into this strange world is that I now offer the EVVA Airkey Smart Lock access control system on my website. And guess what? You open the lock on your door via an app on your smartphone. It's a long way from the paper stamp on a piece of card! I have the demo unit just in case you want a hands-on demonstration of how the system works (let me know if you do). You can control access to multiple doors fitted with airkey locks all from the comfort of your settee. Unfortunately, the system does not make the coffee yet, but I am sure this will come at some point.
So for anyone who has an interest in the journey that is required to build a small business without massive funds, I self-funded the ID Card Bureau which has partially funded the e-commerce store. Maybe one day I will see a return on my money if I survive Covid 19. But I am an optimist. I think maybe one day I will be rubbing shoulders with Richard Branson. I HOPE.
Connect with me
You will find me in many places on the web including on the usual social media platforms: Linkedin, Twitter, and Facebook. In my posts I use the hashtag #SpectrumIDLink - check me out. I am in the directory section of www.seenobounds.co.uk under the 'Other' tab as Security & Identity Solutions Ltd. I also publish the odd article and post on Linkedin fairly frequently.
For those of you who fancy a little FREE advertising, I run on Facebook the group Business Advertising UK. On Linkedin, I run the groups Security Professional and Tradebear Marketing - come and join us to keep the party going. Look out for Tradebear.uk which links both my ecommerce and ID card bureau websites.
If you have not fallen asleep by the time you reach this point, I wish you all the best should you have made or are making a similar journey. It is not easy but then again, what else would you do! Just a pity they shut the Pub!
Should you wish to contact me please do so at your own risk of being bored to death, but for those willing to take the risk I am available on 01495 757 153 and via a couple of email addresses: dennis@spectrumpositive.co.uk or info@spectrumpositive.co.uk. You can also reach me through the website at www.spectrumid.co.uk. Why not check the news section or sign up for the newsletter - click the link in the footer.